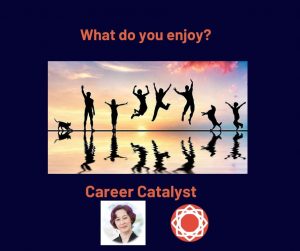 What are you doing with your holiday?  If you get one, that is, and if it's different from your current state of employment.
I ask because often what we do in our leisure time can give us a sense of what we really enjoy doing.  Things are different these days, of course, so maybe it's a question of what you wish you were doing.  Or maybe you're finding that being in your garden is making you happy, or connecting virtually with friends.  Whatever gives you a lift is worth noting, because it can be hard to know what we really want.  If you're struggling with what you enjoy doing, start by making a list of the things in life that bring you real pleasure.  Don't worry that some of them are things you can't get paid for.  We're not really looking for a single thing, but for a pattern of things with something in common.
Many years ago, I decided that, since I enjoyed cooking, it must mean that I should go to cooking school and move my hobby into the realm of career.  I went to cooking school, giving up my vegetarian ways for the duration of the program, and learned a bunch of stuff that hasn't really helped me much.  I'd focused on the one thing, cooking, and not the bigger stuff.  What I enjoy isn't cooking, exactly, but the freedom to be creative in my kitchen, on my terms, with the end point of providing something to my loved ones that they'll enjoy.  Those things don't add up to a professional chef position, and I never seriously considered any chef-ly career paths.  (I briefly entertained the idea of baking because I like that nothing in that world can be rushed.  It happens in its own time, and you just have to be patient.  But also bakers keep terrible hours so it was a short flight of fancy.)
What I didn't do, in my hasty cooking school decision, was stop and see the whole pattern.  I was feeling a lot of pressure to make a decision and have a meaningful career path, and I let that influence my choice.  It wasn't a terrible one, of course—I learned some knife skills, and I got to cook in kitchens in France and Italy.  But I spent a lot of money I didn't need to, and I gained 20 or so pounds that it took me forever to get rid of.  And all because I let my little voice of alarm call the shots.
So if you are in a place now that gives you some time freedom, try really writing down what you enjoy.  But don't stop there! Your next step is to think about why you enjoy that.   It's useful to know that you enjoy being curled up on the couch with some cocoa and a novel, for instance, but I've never seen a job posting for that, so what is it about it that makes you happy?  Brainstorm a bit and see what you come up with.  Maybe it's autonomy or work-life balance or the freedom to work when and where you want.  Maybe you like novels because they spark your imagination or let you get into someone else's head.
Once you have jotted some stuff down, take a look at what you have.  You might be able to start seeing a pattern, and that pattern might start to give you some ideas.  Come back tomorrow for more!