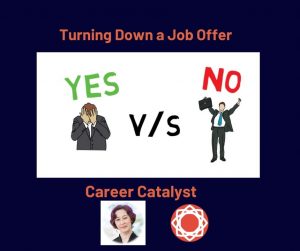 Can you turn down a job offer in this job market?  Absolutely!
I know things are tough out there, but that's no reason for you to have to settle for something you'll hate.  Okay, maybe you take a short-term job that doesn't ring all your bells—that's my definition of a "gap" job.  But should you take something that undervalues, underpays, or just feels off?  Not even during a pandemic.
You still have worth.  Your value doesn't decline just because the world is so strange right now.  I think we all have to be open to compromise, given everything, but that should really only mean a small pay cut or a bit of a step down from the title you want.  It definitely shouldn't include a substantial reduction in salary, and the idea of the new job shouldn't fill you with dread.  If you get an offer and everything but the pay looks good, negotiate.  But if you get an offer that doesn't sound at all appealing, walk away.  There will be other opportunities, so keep networking, maintain that LinkedIn profile, and update your resume.  You deserve to be happy at work.
Saying no to a job offer is a little different if you're on unemployment, of course.  It's one of the reasons I encourage people to apply only for things that sound like a good fit.  I definitely don't recommend applying for anything and everything.  It can be tempting to feel like you just want to work, but the truth is that you probably want something meaningful.  So comb through the posts you find carefully.  If there's no salary info posted, call and ask, or carefully bring it up during the phone screen.  (This is contrary to the advice I normally give, but things are different these days.)  Then apply carefully and intentionally.  You and your future employer both deserve your happiness.