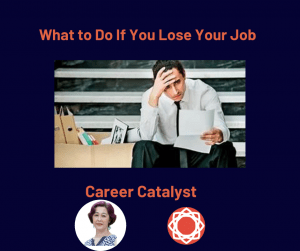 The first thing to do if you lose your job is to determine what the official reason is.  Have you been laid off?  Fired?  Quit?  These are important distinctions that will have a big impact on your next steps, so take the time to take the time to learn what the official record will say.  For the purpose of simplicity, this week I'll focus on involuntary job losses, so if you've quit, be sure to tune in next week.
After you know what your official separation reason is, it's time to start planning.  If you've been fired, especially if it's a surprise, ask why.  This is hard and often very painful, but it can lead to some insights around your shortcomings or the kind of supervisor you should seek next.
In either case, you will also want to negotiate your separation.  You want the maximum you can get.  Severance pay is fairly common for layoffs but more unusual for firings, but it's worth asking about.  You will also want to know about things like insurance, transit passes, gym memberships, and the like, so that you can continue to use those for as long as possible.  Especially if you're fired and get a lot of paperwork you're supposed to sign, it may be beneficial for you to find an employment lawyer to help you sort through things.  In some states you can also sue for wrongful termination, but be aware that many states are so-called "right to work" states, meaning you can be terminated at any point without a reason.  In those cases, unless you have very strong evidence of discrimination, you're unlikely to have success with a lawsuit.
If you've been fired, ask what they can tell future employers and what they can't.  In many cases, all they can say is whether or not you're "eligible for rehire," and in most cases that simply means you weren't caught stealing or defrauding the employer.
Finally, be sure you get contact information for the people who will give you good recommendations.  It's not uncommon for people to have issues with a direct supervisor, but to have good relationships with others in the organization, so you can circumvent many of the difficult circumstances of possibly getting a bad recommendation from your boss by having contact info for other people.
And try not to despair too much. I know it's a terrible feeling either way, but all is not lost, even if this is the third or fourth time this has happened to you.  If you keep getting fired, consider finding a therapist, as you may be struggling with depression.  If you keep getting laid off or chased out, think about a career counselor who can help guide you through finding something that feels like a good fit.  As much as this sort of thing stinks, it doesn't define you.