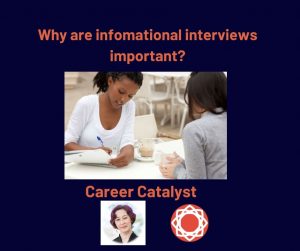 I've talked a lot about how important networking is when you're looking for a job or growing in your career, so this I want to talk about my favorite kind of networking, the informational interview. You may or may not be familiar with the term, so today I'll talk you through what it means and what it doesn't.
First of all, an informational interview is not a time for you to look for job leads. You may get some, but be very clear that you're not seeking them. Instead, you are seeking plain ol' info, as the name suggests. Mostly this is about your conversation partner's job and work history, but you can also talk through some additional topics like the culture of the person's company, what kinds of training people need to get into the field, current challenges or changes, starting salary ranges, and so forth. I'll get into specific questions later in the week, but for today, just keep these ideas in mind. This is important because it will keep you focused, and will help you avoid the trap of asking for leads in the organization.
Best practices for the info interview are:
· Keep it short. Half an hour or so is about the right range—this person's giving you their time!
· Have the things you really want to know written down do you stay on topic.
· Respect their time and location. When it's safe to have in-person meetings again, find places near the other person's work so it's convenient for them.
· Thank them by picking up the tab, or, if you meet virtually, sending a small gift card to a coffee shop or something similar.
· Feel free to take notes! This shows you're really paying attention to what you're learning, and also allows you to jot down any specific resources they mention.
· Ask for other people to talk to. This is a key step that lots of people forget. I like to say something along the lines of, "This has been so informative! I really appreciate your time, and I'm excited about the possibility of working in this industry. Who else do you know that I should talk to, and may I use your name when I reach out?" (You can tailor this if the person's role turns out not to be interesting to you: "Thank you so much for your time! I think I would probably be better in a role that's less directly client-facing. Can you recommend someone like that for me to speak with, and may I use your name when I reach out?")
· Follow up with more thanks! If it's been an especially helpful conversation, a small gift card is a very nice gesture. You can also gently remind them of any resources they offered: "Thank you again for your time the other day. I am looking forward to that list of contacts you said you would send. As a token of my thanks, please find attached a $10 gift card to the coffee shop you mentioned when we spoke."
· Keep a record of who you talk to. I'll offer a tracking sheet later in the week, but if you start the process right away, just jot down quick notes on who you talk to and what you learned.