Now that you've taken some notes on a few things you really want to be sure to have on your cover letter, it's time to write that sucker up.  I recommend writing down what you want to cover, even if it's rough, and then stepping away for a little while so you have time before you refine and polish the document.
Here are a few basic cover letter rules:
Use the same header (but not really a header) as you used on your resume. This gives your documents a professional look and ensures that everything stays together.  In fact, use that same look for the top of your reference page, as well.  (Yes, that's a whole separate document.)
Consider the salutation carefully. "To Whom It May Concern" is never really a winner—it's not warm, it sounds like you don't know where you're applying, and it always makes me think of Snoopy: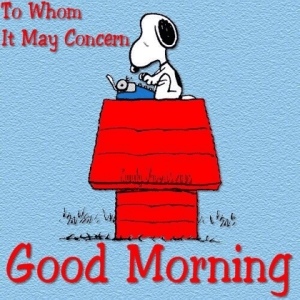 A better choice is something like, "Dear Hiring Manager," and your best bet of all is to know who make the decision and address it to that person.  (Pro tip: a woman is always a Ms. but only sometimes a Mrs. and more rarely a Miss.  Of course, sometimes she's also a Dr., so do a little research but if you can't find anything, Ms. is safe.)
Think of it as three paragraphs. It may not really be that, but it's a good framework: introduction, body, close.  In the intro, you give a bit of your background and why you're interested in the position.  In the body, you go deep, explaining what you've accomplished and how that will lead you to great success in this role.  Then you wrap it up with a bow by thanking them for their time and adding whatever else needs to be said in the close.
Or… ignore that and do something really different. This is an approach I only recommend if you know you're a very good writer.   But if you are, start off with something really interesting—a story or a joke or whatever catches your fancy.  Then go into all the stuff about being the best candidate and so forth, as above.
Don't introduce new information. If there is something in your letter that isn't demonstrated in your resume, it looks like you haven't bothered to update your resume or, worse, like you don't really have that skill or qualification but threw it into your letter at the last minute.
Absolutely, positively, without fail use good grammar, spelling, and punctuation. I mean it!  The resume is designed to be skimmed, but the cover letter is there to be read.  Errors, typos, and just plain wrong word choice will make you look ridiculous.  If you struggle with this, use a tool like Grammarly, or run it by your uncle the retired English teacher.  (Or, ideally, both.)  I have met more than one hiring manager who stops reading at the first misused your or misplaced apostrophe.
Don't try to sound fancier than you are. Simplicity is elegance in business letters, and this one is no exception.  If you're trying to impress, chances are that you'll choose just the wrong word from your online thesaurus and wind up sounding much less intelligent than you are.
Keep it short and focused. Again, your aim is for them to read this, so don't go on about everything you've ever done.  Stick to the main points and let your resume and LinkedIn profile do their work.  The main reasons you are writing it are to explain your interest in the position (or the company), to illustrate how your background makes you a fit, and to demonstrate your writing skills.
Don't be afraid to show your enthusiasm. I've encountered a few people who think that excitement about a position is unprofessional, but I've had countless conversations with folks who make hiring decisions, and I can assure you that true passion shines through, and is often the reason one candidate is chosen over another.