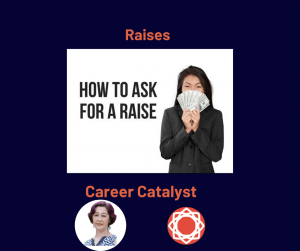 Now that you know you're worth the bucks, and you've learned to negotiate your salary, it's time to start thinking about how ask for a raise.  Yikes!
This can absolutely trip our anxiety wires again, but don't freak yourself out.  What you'll do is start by looking back over the last couple of years and making note of your accomplishments.  What have you done that was really great?  What did you finish ahead of time and under budget?  What new relationships have you built?  Partnerships solidified?  Customers pleased?  Write all of these down, even the little ones.  Spend an hour or so doing this—it's a good habit to be in anyway, because we all do more at work than we think, and it feels really powerful to see what you've done.
Once your list is written, put it aside for a day or two.  Then, come back to it with fresh eyes, and decide which things are really worth mentioning.  Be sure you write them down, because chances are that you'll be nervous when it comes time for The Raise Conversation.  Then think about whether there's a numerical value you can assign each of those.  There might not be, so don't panic, but sometimes there is, as when you've landed a really big account, so you'll want to note that in those cases.  (Don't oversell it, though, because if that client chooses someone else next year, you don't want that tied to your salary!)
Then it's time to schedule that conversation.  Make sure you allow for a good 30 minutes or so, and be sure to set it up as a formal conversation with your boss.  That will let you set the tone, because, dammit, you deserve that raise.  Go into the meeting with friendly confidence.  You're a badass and you know it.  Talk about all those awesome accomplishments, and then say you deserve a raise.  (You know you do.)  Being a counselor-y type, I tend to frame that fairly gently: "In light of all that, I'd like to discuss the possibility of a salary increase.  What are your thoughts?"  But if you're more direct, be more direct.  A lot of this is about your comfort zone.
Your boss may or may not be able to make a decision right away, so bear that in mind.  If you are successful in that conversation (yay!), be sure to once again get it in writing, and then thank your boss graciously.  If not, ask when you can expect an answer, and then thank your boss graciously.
Now, here's the hard part: what will you do if you don't get it?  For some, that's enough to start looking for a new job.  For others, it's just an opportunity for growth—ask your supervisor what you can do to merit the raise in the next few months.  And for a few, it's a sign of poor management and a bad environment, so if you're in column C, start planning your exit and get out while your sanity is still intact.  Things are unlikely to get better, and you don't deserve to stay stuck in a dead-end job.