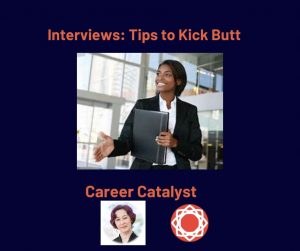 You're not alone.  Most people are, in fact, and that seems quite sensible to me.  After all, there's a lot riding on that single conversation, and these days, the conversation is happening in a different way.
Here are a few basic tips:
1.     Prepare your tech in advance.  If at all possible, a wired connection is best, but since that isn't always possible, be sure you get the contact info for the person in charge of your interview so you can call in the event of a tech glitch.
2.     Put some google eyes or a little note by your camera.  Your temptation will be to look at the screen, but "eye contact" for a video interview means you looking at the camera.
3.     Practice your answers to common interview questions. (More on those tomorrow.)  You want to be comfortable with your answers but not to sound too rehearsed or robotic, so just have a general idea of what you want to say.  I recommend:
4.     Old-school index cards.  Or cut-up bits of paper.  Or more sticky notes.  The idea is to have some things you want to be sure you mention around you but out of view of the camera.  They will remind you of some of your key talking points, and give you nudges about stories you want to tell.  Speaking of which,
5.     Tell stories.  You will get lots of questions that are things like, "Tell me about a time you had to deal with conflict."  This is absolutely not the time to speak in generalities, so be ready to answer these situational questions with stories: "Well, this isn't a big conflict, but earlier this week, my husband really wanted to watch a movie that I hate.  At first I felt really angry, but then I realized it was a de-stressor for him, so I told him that I hated that movie so he could watch it but while he did that, I was going to take a bubble bath.  We did that, and then afterwards he felt kind of guilty, so he ordered dinner from my favorite restaurant, so it ended up great for me!"  This illustrates how you deal with conflict in a way everyone can understand and picture, rather than general info that they're going to forget in 5 minutes.
6.     Have a list of questions to ask them.  Prepare more than you will need because some things will get answered in the process.  I recommend you prepare around 10, though you won't likely need them all.  Stick to topics like the responsibilities of the job, the culture of the office, training and onboarding, etc.  Avoid things like salary and benefits.
7.     Write down their names (get the spelling right!) and anything interesting you learn in the conversation.  If possible, get email addresses, too.
8.     Write thank-you notes.  If you can, write a personal note to each person who interviewed you (aren't you glad you wrote that down?) with some kind of connection to each of them.  Otherwise, you can address them all in a single note to the person in charge.  Email is fine, though you can add a snail-mail card if you would like.  Don't pre-write cards and send them on the day of your interview, since those will not allow you to make any mention of the things you talked about in the interview.
9.     Breathe.  Of you feel your anxiety start to spike, take some deep, slow breaths.  They're just people, even though you can only see part of them on camera.  If you get a hard question, take a few deep breaths before you answer.
10.  Smile.  It's stressful, but they're stressed too, and smiling will help you all feel a little more relaxed.  I know it's cheesy, but you hear this advice all the dang time for a reason!